When Lori Speaks… People Are Transformed
Book the Inner Communication and Stress Reduction Expert for Your Next Event and…
Watch as Attendees Mindsets Shift, Motivation and Morale Increases and Productivity Soars
Theres electricity in the air when Lori speaks…
Its a level of energy that is exhilarating while she inspires everyone in the room. Its a combination of Loris authentic enthusiasm, her ability to connect to the heart of listeners, and her 28 years of leadership, sales and motivational success that helps attendees to unleash unlimited potential. As a stress reduction specialist, Lori helps individualsoptimize brain performance and change the landscape of their inner life toimprove health and enhance a state of well-being for stepping into a life you really love. Lori is also an inner and outer communication expert who empowers listeners to "Rethink Reality" which is a process which enables people to accept their own weaknesses as well as others "flaws" while focusing on their uniqueness and strengths. This shift in perceptions helps individuals be more patient and less offended by what others do, say and think, and ultimately this new mindset will drive an inner desire to be the best you can be each day regardless of adversity, setbacks and opposition.
Thats why when Lori speaks, people not only listen, they are transformed.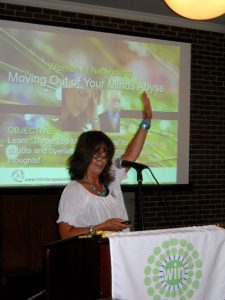 "Lori hits home with a powerful message everyone can relate to and benefit from." Jim
Lori especially connects with and loves to share her empowering wisdom with:
-Entrepreneurs and business professionals with busy minds and lives
-Organizations committed to supporting employees to achieve wellness and peak performance
-Individuals seeking to improve mentally, physically, emotionally, spiritually
"Lori fit into the most effective category of speakers – educational, entertaining and above all…motivational. She was our keynote speaker and provided valuable information which every attendee found useful. She drew on and shared her personal experience with our attendees which made her very relatable. I was amazed at the amount of information she was able to fit into the limited framework of our session time. Our conference was certainly enhanced this year by bringing Lori in to open our annual conference. The feedback has been overwhelmingly positive. She is personable, an expert and highly creative. Thank you, Lori!"
Mary Heller; MBA/HCM, CPMSM,Minnesota Association of Medical Staff Services
Shaping Your Mind For Success
"Sometimes a small change in perspective can change EVERYTHING." Lori Bestler
Now attendees can benefit from Loris inspiring messages and discover the key ingredients to start leading a truly exceptional life.
Thousands of men, women and young adults have already experienced Lori's unique approach and have benefited both personally and professionally.
Get Ready for a Dynamic, Interactive and Inspirational Journey as Your Attendees Spring Into Action, Applying Tools Taught Right Away!
Lori's motivational speaking presentations are jam packed with innovative, breakthrough strategies, symbolic inspiringstories and action-inducing lessons.The results you can count on are having your attendees leave with the tools and mindset to:
Turn problems around with ease and speed
Improve the ability to overcome obstacles/resistance and/or fear
Feel empowered, confident and capable to realize goals and dreams
Enhance well-being and health
Shape an "I CAN" positive attitude
Remove self-sabotaging inner language and limiting beliefs

Learn how the mind works and what it takes to "Rewire the Brain" for improving mood, maximizing brain performance, enriching relationships.
Lori helps attendeeslearn simple, doable effective strategies to "Shift" their thinking patterns instantly.
Here are Loris Most Requested Presentations>>
Download Speakers One Sheet Here>>
Lori Bestler's Bio>>
Partial Client List>>
Lori can customize each presentation to suit your event! Pick any one of our presentations and you can be sure it will leave a positive impression and have a long-lasting influence.